Glamping on the Isle of Mull
 Glamping on the Isle of Mull. Our story so far.
We hope Glamping on the Isle of Mull will be as popular as our self catering log cabins. We imported Kelo wood from the forests of Finland and Russia  and began the build of our Camping Cabin and Sauna Cabin. Getting the heavy logs from the side of the road down to the field behind our house was a long and heavy process, as the kelo logs are a dense heavy wood, but with help from friends we managed and the build began.
We started with firm foundations luckily the peat was not too deep at this point, and the Cabins soon went up. All the logs had been pre cut and numbered and fastened in place with square pegs in to round holes.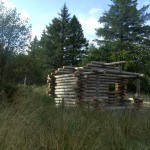 The weather was good to us and we managed to get the roof and floors done along with the doors and windows. Our Glamping on the Isle of Mull was on its way.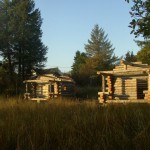 Next came the stoves for both cabins. The Harvia log burning  Sauna stove came from Finland and soon manages to warm up the Sauna to heat in excess of 70 degrees and when water is put on the stones  it feels hot, so the cold plunge pool out side is a blessing to cool down.
The log burning stove in the Camping Cabin will be used for both heating the cabin and for cooking. We are also getting a fire pit out side for cooking alfresco or for just sitting around the camp fire. The cabin will have no electricity so you will need candles for light, and  along with the flickering log burning stove a truly romantic back to nature feel. A cosy camping holiday with the luxury of your own little log cabin and sauna cabin for the most relaxing holiday you have ever wanted, You may never want to go back to the hustle and bustle of life again.
Water will be from an out side tap.
We then started on the out side composting toilet. This is in a separate shed to the rear of the cabin, And has a very comfy polystyrene seat as used in Finland. When we was on a holiday to Finland we stayed in a cabin with a composting toilet, and I was quite surprised to see how clean and not at all like I imagined the composting toilet was, and if I can say a lot less smelly than a flushing toilet. You do feel to be at one with nature when you are at the  camping cabin.
When I went to take the photos this morning I got this one of 4 deer sat in the next field, It was only taken on my phone so could not focus in but they are there if you look close.
We then started on the ground work and got 20 tones of Sand and gravel to lay for the paths and out side seating area where the fire pit will be. And that is where we are at the moment. We will take more photos as we get on with the ground work and when we build the fire pit. if you would like to book to stay in our back to basics Camping cabin or as it is said now Glamping on the Isle of Mull in 2014 please contact us by e-mail for availability or any questions you may have www.hartofmull.co.uk for availability and price please click this link. https://hartofmull.co.uk/availability-for-self-catering-on-the-isle-of-mull-2014/