Hart of Mull Self Catering Log Cabins and Pod accommodation
---
Self Catering log cabins and Pod  holiday accommodation with a Hot tub and sauna on the beautiful Isle of Mull.
Where Eagles really do fly.
Welcome to Hart of Mull Self Catering Log Cabins and Pod accommodation  on the beautiful Island of Mull. We want you to have a relaxing time here so  some of our accommodation can be rented with Hot tub and or Sauna.  Our Self catering cabins are in Salen and so are central on the island, allowing you to have a base to go from each day to explore the rest of this fantastic island.
Thank you for arriving on our web site.  I hope you find all the information you require but please don't hesitate to get in contact. Because we are a small family run business and based on the island,  Having the knowledge and understanding needed to provide the perfect holiday.  If you require any help please contact us via e mail, phone, Text or our chat.  We are  always happy to help and will get back to you as soon as we can. Thank you.
 Why not make the Isle of Mull  your next Holiday destination. With its open spaces, tranquillity and the freedom to roam while immersing in to the wide open space its nature and fresh air.
A little about us. 
 I am Diane Mellor and my husband is Tim Mellor. Between us we own and run Hart of Mull Self Catering Cabins and The Taste of Mull Food Van. Our journey began in 2006 starting with cabin 1. In 2009 we added Cabin 2 and then the camping cabin and the pod. Continuing to improve and change with the times to give our customers a fantastic base and variety of accommodation. From which you can enjoy the whole of the Isle of Mull and every thing it has to offer.
Bookings are now being taken for 2022/2023 please contact us for availability.
or click on the book now on the right hand column to check availability and price. for short breaks please e mail us or chat on line if we are available.
We are open all year
  Short brakes are available in low season and subject to availability are available in high season. Our Pod is available nightly all Year.
Please do get in contact with us for availability and price.  contact us   
View mull on the STV player from June 24th 2019.
Visit https://player.stv.tv/episode/3ss0/seans-scotland/episode-4/
Our Accommodation.
Cabin 1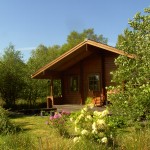 Cabin 1, Accommodates up to 4 people. It has a double room and a twin room, Bathroom with bath and shower, toilet and sink. Living area with two sofas, tv with free to view channels and dvd player.  Fitted kitchen with Washing Machine. Dining table and 4 chairs. Out side seating and table, with Sole use of a Hot Tub for that little extra bit of relaxation and a sauna can also be hired subject to availability. Min 3 night lets in quiet times and 7 nights in peak season.  weekly Saturday-Saturday in high season.
Book Now Pay securely online.
Cabin 2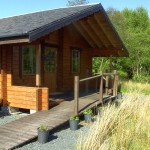 cabin 2, Sleeps up to 4 people. It has a double room and a twin room, Bathroom with  shower, toilet and sink. Living area with two sofas, tv with free to view channels and dvd player. Fitted kitchen and dining table and 4 chairs. Out side seating and table. A sauna can be hired subject to availability. Min 3 night lets in quiet times and 7 nights in peak season. Weekly Saturday-Saturday in high season.
Book Now Pay securely online.
Camping Cabin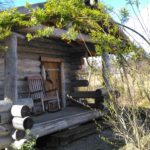 Camping Cabin, Sleeps up to 2 people . In an off grid cabin with log fired stove for heat and cooking, perfect for getting away from mod cons. A 1 roomed cabin with double bed for a bit of comfort and small table and chairs. This is an alternative to camping or as known as Glamping. cabin includes sole use of a sauna also heated with a log burning stove. The cabin has a cast iron pan and frying pan and a kettle that can be used on the stove or out side fire pit. Billy cans and utensils also included. The cabin also has the use of a composting toilet. For the eco friendly holiday. This cabin is separate from the other cabins and down a steep path so suitable foot wear advised.  Can be booked on 3 nightly basis.
Book Now Pay securely online. 
The Pod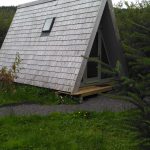 The Pod, Accommodates up to 2 people.  The Pod with its own shower room two futons and tea and coffee making facility's and small electric heater for cooler times. Can be booked on a nightly basis.
Book Now Pay securely online. We will be putting a second pod on over winter called the Ark watch this space for booking and availability.
Covid-19 cleaning protocol and risk assessment.

We here at Hart of Mull take our cleaning serious not only for our customers safety but for our selves too.  We have done a covid-19 Holiday let cleaning course to ensure we are fulfilling our duties correctly so you can be assured we have done all possible here to protect all who enter our cabins.
Isle of Mull is the perfect place to come to unwind. It has plenty to offer what ever you want to do.
We are open all year, So why don't you pick your season and come and explore the fantastic Island of  Mull. From the long days of summer to the short days and dark sky's of winter, You will always find something to occupy your time on Mull.
Relax and Unwind.
Imagine walking on a crisp white sandy beach to fishing in rock pools, dipping your toes in to the clear waters of the sea or plunging in to the rivers. Sit relaxing while watching the waterfalls gently cascade over the rocks and the wild life peacefully passing the time of day.
Our Cabins
Hart of Mull Cabins are Set in 1.5 acres of wooded land on the edge of the village. Because of the trees they are private from each other. Offering a peaceful location to couples or families alike. We can offer accommodation from 1 person up to 12 people, in 4 separate properties. Cabins 1 and 2 take up to 4 people each and the Pod and Camping Cabin both up to 2 people each. 
Our Self catering log cabins 1 and 2 are from Finland and  are built to high standards and well insulated. Our Barrel sauna can be hired separately for the week with cabin 1 or 2, subject to availability.
We also have two smaller cabin. Our camping or glamping cabin and our Pod. Please have a look at Accommodation page to see the 4 different log cabins accommodation. We are sorry but we can not take pets in our Accommodation.
Accommodation to suit all.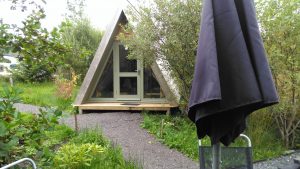 The village of Salen is a 5 minute walk away from the cabins. where you will find local amenities, these include a hotel with bar, two cafes, fuel station, and well stocked spar shop with post office.
On the east coast of the Isle of Mull, Salen has its own bay with rocky islets looking on to the Morven and Ardnamurchan peninsular which is the most westerly part of the British mainland.
Isle of Mull has many different views and beautiful sights to see. Book your self one of our self catering cabins, camping cabin or pod for a perfect base to tour the whole Island and begin your adventure.
Centrally situated Hart of Mull is in the enviable position of having good access to all places on the island, we are equidistant between Tobermory and the ferry terminal at Craignure yet only two and a half miles from the spectacular west coast.  Hart of Mull Log Cabins are easily got to by car, bus, bike or on foot.
Part of the inner Hebrides, The Isle of Mull can be accessed from the west coast of Scotland With 3 ferry ports bringing you here.
Famed for its outstanding natural beauty. It boasts rocky bays and white sandy beaches to its mountains and moorland. With its wildlife  as varied as its scenery.
Here Eagles really do fly. We have both the White tailed eagle and the Golden eagle and they can be seen soaring in the skies along with many other raptors. There are many other birds for the keenest of bird watchers to observe and there are organised trips on the island led by experienced guides with the best local knowledge.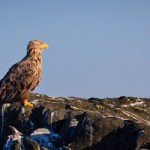 What ever the weather has to offer from clear starry nights to cloud or snow caped mountains to glorious sun sets and rises and everything in between and you know you have a cosy log cabin to return to at any part of the day to just sit and relax on the veranda. or add the luxury of our log heated sauna for the perfect peaceful way to relax.
Whatever you want from your self catering holiday here on the Isle of Mull, Hart of Mull is the ideal base.
Smoking is not allowed in our accommodation but is allowed in the grounds. We do not take pets here at Hart of Mull.
Plenty of ways to Contact us.
If you would like to book any of our accommodation, please either e mail or phone us or use the online booking form, or click the book now and fill in your required dates.  Give us a ring on 01680 300545 or text 07926691587, you can also contact us through Facebook or live Chat. We look forwards to you contacting us. We will always get back to you but because we are only the two of us it may not be straight away.
Enjoy Isle of Mull wildlife … deer, eagles, otters, seals
To discuss your Isle of Mull holiday requirements please contact Tim or Diane on 01680 300545 or enter your name, email address and details of your holiday accommodation requirements into our contact form, please provide as much information as possible to enable us to deal with your enquiry efficiently.