Hart of Mull Self Catering Log Cabin accommodation
---
Self Catering log cabin  holiday accommodation on the beautiful Isle of Mull.
Welcome to Hart of Mull Self Catering Log Cabin accommodation on the beautiful Island of Mull. Our Self catering cabins are central on the island allowing you to have a base to go from each day to explore the island. Cabin 1 cabin 2 Camping Cabin and the pod
Isle of Mull is the perfect place to come to unwind. It has plenty to offer what ever you want to do.
We are open all year, So pick your season and come and explore the fantastic Island of  Mull. From the long days of summer to the short days and dark sky's of winter, You will always find something to occupy your time on Mull. Imagine walking on a crisp white sandy beach to fishing in rock pools, dipping your toes in to the clear waters of the sea or plunging in to the rivers. Or watching the waterfalls gently cascading over the rocks and the wild life peacefully passing the time of day. Our Log cabins are set in 1.5 acres of wooded land and are private from each other so offering a peaceful location to couples or families. Book your Romantic break or family get away on the Isle of Mull Now
We can offer individual holidays or family getaways sleeping up to 12 guests in our 4 properties. Please get in contact via phone call, text,email, Facebook or twitter. We look forwards to answering you question and helping in any way we can.
Our Self catering log cabins are from  Finland and  are built to high standards and well insulated. Our Barrel sauna can be hired separately for the week with cabin 1 or 2, subject to availability. Hart of Mull  is set in one and a half acres of land down a quiet lane on the edge of the village of Salen. We now also have  two smaller cabin, we call our camping or glamping cabin and our Pod. Please have a look at Accommodation page to see our 4 different log cabins accommodation. Accommodation to suit all.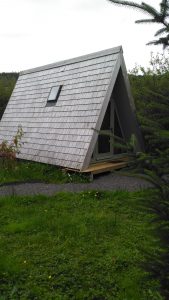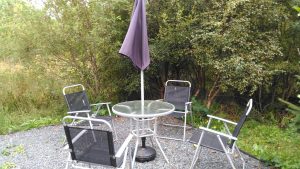 Salen village is just a five minutes walk away  where you will find local amenities, these include a hotel with bar, restaurant, post office, garage, and well stocked shop.
Salen is a Small village set on the east coast of the Isle of Mull, it has its own bay with rocky islets looking on to the Morven and Ardnamurchan peninsular which is the most westerly part of the British mainland.
Isle of Mull has many different views and beautiful sights to see. Book your self one of our self catering cabins, camping cabin or pod for a perfect base to tour the whole Island and begin your adventure.
Centrally situated Hart of Mull is in the enviable position of having good access to all places on the island, we are equidistant between Tobermory and the ferry terminal at Craignure yet only two and a half miles from the spectacular west coast.  Hart of Mull Log Cabins are easily got to by car, bus, bike or on foot.
Isle of Mull is part of the inner Hebrides off the west coast of Scotland and is famed for its outstanding natural beauty, from rocky bays and white sandy beaches to its mountains and moorland and the wildlife is as varied as its scenery. Here Eagles really do fly. We have both the White tailed eagle and the Golden eagle here and they can be seen soaring in the skies along with many other raptors. There are many other birds for the keenest of bird watchers to observe and there are organised trips on the island led by experienced guides with the best local knowledge.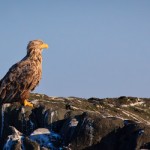 What ever the weather has to offer from clear starry nights to cloud or snow caped mountains to glorious sun sets and rises and everything in between and you know you have a cosy log cabin to return to at any part of the day to just sit and relax on the veranda and have a BBQ. or add the luxury of our log heated sauna for the perfect peaceful way to relax.
Whatever you want from your self catering holiday here on the Isle of Mull, Hart of Mull is the ideal base.
Log Cabin 1
Log Cabin 2
Camping Cabin
The Pod
Smoking is not allowed in our accommodation but is allowed in the grounds. We do not take pets here at Hart of Mull.
If you would like to book any of our accommodation please fill in our Booking Form.
Enjoy Isle of Mull wildlife … deer, eagles, otters, seals
To discuss your Isle of Mull holiday requirements please contact Tim or Diane on 01680 300545 or enter your name, email address and details of your holiday accommodation requirements into our contact form, please provide as much information as possible to enable us to deal with your enquiry efficiently.